Welcome to the Mississippi state website for Dizzy Dean Baseball & Softball. This site was established for the communities and young people who play Dizzy Dean Baseball and Dizzy Dean Softball in the state of Mississippi. If you would like to become a Dizzy Dean sponsored recreational facility, please contact any National Director.
"FUN, CHARACTER, WINNERS"
Dizzy Dean Baseball and Dizzy Dean Softball are not for coaches, parents, or spectators. They are for the youth that play the game. Two of the greatest outlets for young people are baseball and softball. As a professional, Dizzy Dean played baseball for the love of the game. He played with the same enthusiasm, intensity and energy as the youth play the game today. Dizzy Dean played because it was fun. We must continue to make baseball and softball fun without placing undue pressure and stress on our youth. Our youth come first, winning second. When you build the character in a youth, you build a winner.
There was no organized baseball in Arkansas while Dizzy Dean was growing up and he was denied the opportunity to play baseball as a young boy. It was Dizzy Dean's dream that one day every young person would have the opportunity to play ball. This was Dizzy Dean's dream, this is what Dizzy Dean Baseball is about.
By: Billy J. Powell
Commissioner - 97/98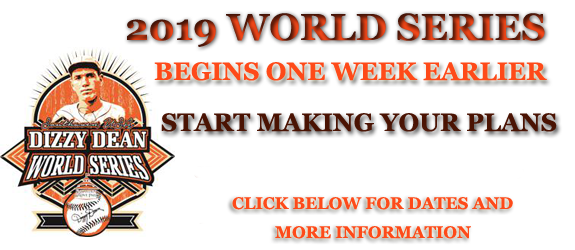 BASEBALL WORLD SERIES / SOFTBALL WORLD SERIES
2019 INFORMATION
1: The National State Executive Board in an effort to make State Tournaments more profitable to our State host we have decided to have only a North/South or East/West in Baseball and Softball for 2019. Any association wishing to host one of these tournaments must bring a letter to the State meeting in February asking for the tournament/tournaments of your choice.

2: Entry fee for Teams to play in the State tournaments in 2019 will be $50
3: State meeting will be Feb 2 in Grenada Senior Citizens Complex.
Breakfast will be held at 9am and the Meeting will begin at 10am
4: Changes in State Tournament Dates.
5: SOFTBALL STATE TOURNAMENTS TO BE PLAYED IN 2019

All State Tournaments will be played one week earlier in 2019 than years past
Decertified Bats
Effective immediately, the bats depicted below have been decertified by USA Baseball and are no longer approved for play in leagues that have adopted the USABat Standard, including but not limited to the American Amateur Baseball Congress (AABC), Babe Ruth & Cal Ripken Baseball, Dixie Youth & Dixie Boys Baseball, Little League Baseball, NABF Baseball, and PONY Baseball.
On January 1, 2018, USA Baseball implemented the USABat Standard for non-wood youth baseball bats. Under USABat, approved bats that feature the USA Baseball mark are performance tested and required to perform at a wood-like standard. The bats listed below have been compliance tested and ruled non-compliant under the USABat Standard.
Team representatives are asked to check your team's bats and withhold these bats from play if your team is in possession of any. League administrators are asked to share this information with your umpires. If any of these bats are attempted to be used during competition, it should be considered an illegal bat and subject to league rules regarding the use of illegal or unapproved bats.
---
30-Inch Easton Ghost X (-10) 2 5/8" (YBB18GX10 & LL18GHX)

The Easton Ghost X 30/20 YBB18GX10 and LL18GHX 30/20 2 5/8" has been decertified by USA Baseball and is no longer an approved bat under the USABat Standard. This applies to the 30" (-10) length of the Ghost X YBB18GX10 and LL18GHX. All other certified lengths and drops of the Easton Ghost X USABat remain approved for play. A full list of approved bats can be found at https://USABat.com
Customer Information: Any questions regarding returns, refunds or warranty claims for the Easton Ghost X 30/20 should be directed to Easton via email at ghostreturn@easton.com or at 1-844-531-7079. Any questions regarding this decertification may be directed to USA Baseball at USABat@USABaseball.com.

To the Dizzy Dean League National Commissioners, State, and National board members, I want to introduce you to one of our league's marketing and sponsorship partners; Umpires Media Inc.
Umpires Media is a leading provider of video-based sports rules explanation…producer of the world's first digital baseball rulebook The Baseball Rules Explorer and testing module for coaches and umpires. There's an encyclopedic knowledge base waiting for everyone at www.umpiresmedia.com
Umpires Media has now included the Dizzy Dean Baseball and Softball rule book within this unique app available for smart phones and on-line web access. As part of our partnership with Umpires Media the Dizzy Dean League, will receive 20% of all revenues on their mobile app sales in support of our scholarship fund.
We ask that all who work with, coach, umpire, or volunteer your time to the Dizzy Dean League purchase one of their specially priced mobile apps by visiting their site: www.umpriesmedia.com/dizzydean
THE FUTURE OF BATS
Changes in bat standards effective 2018
read more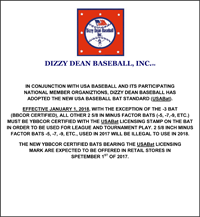 Boundaries
The State of Mississippi Executive Board has established the boundaries as the Public High School District in which you live.
READ MORE...
Time Limit Change
The voting body of the Mississippi Dizzy Dean area leagues voted at the February 11, 2017 annual meeting to adopt time limits for tournament games. All Baseball tournament games in all age groups, will have a time limit according to that age until they reach the championship game(s). (Common Rule 19:14) All championship games will be no time limit, full 6 inning games according to the rule book. These time limits are not "drop dead" time limits, which means, you must finish the inning.
Dizzy Dean Pitch Count Changes
The National Board for Dizzy Dean adopted a pitch count this year for boy's baseball. Please consult the 2017 rule book for the pitch count chart. This rule is in effect now and will be used in league play as well as all tournaments.